NEW PROCEDURE FOR FOREIGN CITIZEN TO ENTER MALAYSIA DURING RECOVERY MOVEMENT CONTROL ORDER (RMCO) FROM 10 JUNE – 31 AUGUST 2020
Foreign citizens are not permitted to enter Malaysia during the remaining RMCO period. However, there are certain categories of foreign citizen who can be allowed to enter Malaysia subject to approval from the Director-General Immigration of Malaysia (DGIM) and the Ministry of Tourism and Culture of Malaysia (MOTAC). 
Malaysian Citizens and Foreign Nationals require a "Permission to Travel to Malaysia" letter from the Malaysian Embassy in the country of their port of departure. This can be obtained through a "Letter of Undertaking and Indemnity".
 Please click here for more information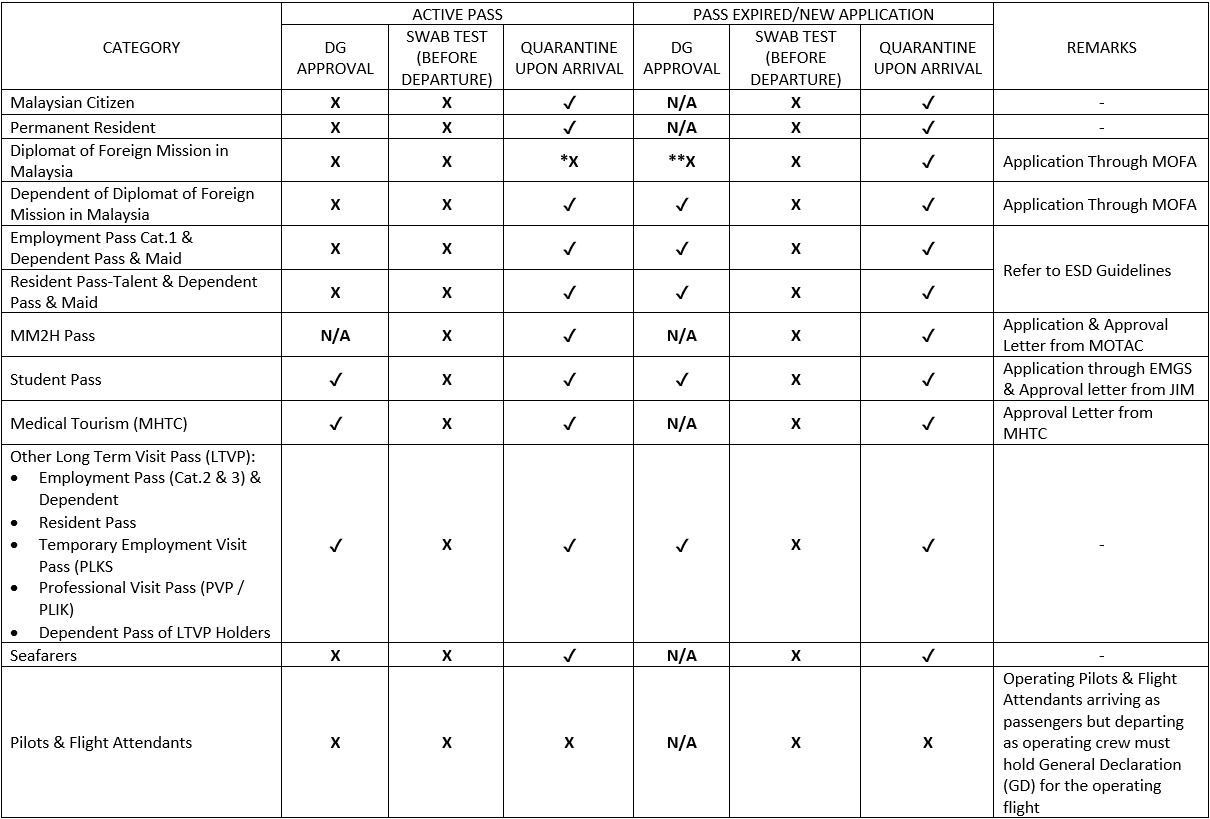 NOTE:
*Home quarantine
**The applicant who is currently abroad with an expired pass but with a balance from the previous Expatriate Committee (EC) Approval MUST obtain an Entry Approval Letter from DGIM. The application must be sent via e-mail to taskforce_esd@imi.gov.my in order to obtain the decision of the DGIM.
More information on the current guidelines for expatriates can be found here.
Please check with the Airline if you are required to do a PCR test prior to boarding the aircraft.
Download the "MySejahtera" app via Google Playstore/App Store and complete the registration within the app. 
Undergo a 14 days quarantine at the designated Quarantine Station by following the procedures prescribed by the National Disaster Management Agency (NADMA) & Ministry of Health (MOH)
Undergo the COVID-19 test at the entrance upon arrival
A valid visa is required for foreign nationals that require a visa to enter Malaysia
Malaysians & Foreign Nationals who exit Malaysia during the Movement Control Order (MCO) on the 18th of March 2020 are not allowed to return during the MCO without the approval from the Director General of Immigration
To apply for approval with the Director General Immigration of Malaysia, please email to:
– pbf@imi.gov.my (Expatriate)
– pbh@imi.gov.my (All other applications)
– naeem.azmi@imi.gov.my
– Copy to kpi@imi.gov.my